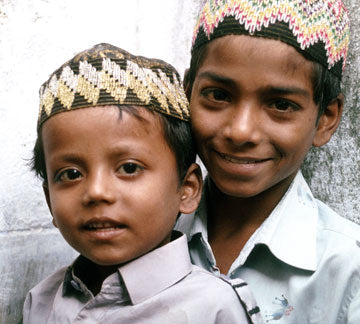 What is Encountering Muslims?
A course that helps Christians understand Islam and foster positive relationships with Muslims. Encountering Muslims looks at the whole global community of Muslims, most of whom live in South and Southeast Asia (Bangladesh, India, Indonesia, Pakistan) rather than in the Middle East, as is often supposed.
We recommend Encountering Muslims for anyone wanting to gain a broad Christian perspective on today's world.
History
Encountering Muslims originated with the U. S. Center for World Mission (now Frontier Ventures) in 1992 and continued refining the curriculum in the years prior to September 11, 2001. The U. S. Center for World Mission's Perspectives Study Program served as the model and inspiration for Encountering Muslims.
In 2002, oversight of the course and book was transferred to Caleb Project. Since 2007, the program has been a ministry of Pioneers.
Learn more about the course
Give to Encountering Muslims Projects
General Fund

The overall ministry of Encountering Muslims: 150464

Donate

International Projects

Translations and global courses: 150227

Donate

Thank you for support!

* As a team of Pioneers, Encountering Muslims holds to the same financial accountability.

Learn more
Team Opportunities
A place for you?
Come to Denver for a few weeks, months, or years to be part of Encountering Muslims! We're looking for online curriculum developers, graphic designers, media specialists, project managers, other techies and more. To find out if there's a place for you, contact us. If you were part of our ministry today, you could:
Produce resources, build networks, explore nations, and provide life-changing encounters to God's people across the U.S. and beyond.
Work with people in all kinds of churches and agencies, inspiring and equipping them to reach escape velocity - to break away from life as they know it and take their unique part in advancing God's global kingdom.
Be part of a tight-knit team that needs you to make a difference.
Gain skills and connections for future ministry overseas or wherever God leads you.
Currently seeking: Regional Facilitators (USA)
Details
Our staff members work under the umbrella of a growing, well-respected mission agency called Pioneers, which values innovation and flexibility. Pioneers, founded in 1979, has more than 3,100 members serving among 200+ unreached peoples in over 100 countries. We're privileged to be part of this movement. We encourage you to read about Pioneers' Core Values.
Most of our staff are responsible to raise up a team of financial supporters to fund the expenses of their ministry, salary, and benefits.
With its spectacular mountains, great weather, and friendly, laid-back people, the Denver area is a great place to live or visit. Explore our city here.