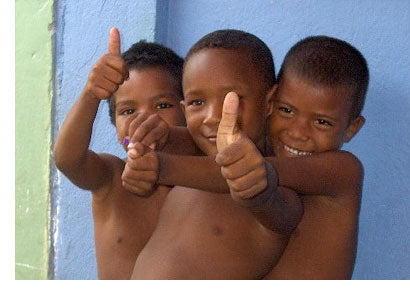 What are other organizations, leaders, and churches saying about us?
Organizations
African Inland Mission

We as an organization fully endorse the purpose and material of Encountering Muslims and will use it and promote it as much as possible as a valuable resource for training people in Muslim evangelism.
Arab World Ministries

Dr. David Lundy, International Director:

Finally! A counterpart to Perspectives on the World Christian Movement, but on Muslims! Having taught in various Perspectives courses myself and seen their effectiveness, it is my dream that Encountering the World of Islam will make a similar impact - equipping those already on a path toward lifelong service among Muslims and attracting those to respond to the need who have still failed to grasp that it is the Muslim's turn to discover Christ's love. Comprehensive but written in bite-sized chunks, Encountering the World of Islam will be widely used in the years to come as a mobilizing and training tool.
Centro Evangélico de Missões

Antônia Leonora van der Meer, Director, The School of Missions Center Evangelical Missions, Brazil:

This book presents an invitation to discover the riches of the world of Islam without prejudice, willing to learn, to understand, to see reality from their perspective, to become sincere friends and to love them with the love of Christ. The book treats Muslims with the respect they deserve.
Cityteam Ministries

Jerry Trousdale, Director of International Ministries, Cityteam Ministries:

We live in an extraordinary season when the Lord of the Harvest is moving dramatically among many Islamic peoples. In my estimation Encountering Muslims is a comprehensive and valuable resource for Christians wanting to join God where He is working among Muslims. Whether a seasoned worker, or a Christian just trying to get beyond the stereotypes to achieve an informed engagement with Muslim people, the program and book Encountering Muslims is a very important resource. They will never again see Muslims as anything less than people needing an introduction to a Savior who greatly loves them!
Dallas Baptist University

KayLyn McGowan Hopper, Assistant Professor, Dallas Baptist University:

Although there are many books on Islam, this is the best comprehensive overview on Muslims I know. Keith Swartley understands this and has selected immensely informative essays into bite-sized chunks, making it accessible to all Christians. It has a proven track record of helping my students gain a deeper appreciation of Muslim culture.
Frontiers

Bob Blincoe, PhD. US Director of Frontiers:

Here are six important advantages that Encountering Muslims will give the students: hearing first-rate professors, reading a first-rate book, making new friends, learning to respect Muslim people, understanding the times in which we live by the truth of the Bible, and discovering your future.
Interserve

Steve Bell, National Director:

This is the only course of its kind, content, and quality in Britain. I warmly recommend it to anyone wishing to learn more about how to reach Muslims with the love of Christ.
M2414 Initiative

Rev. Timothy Olonade, CoFounder & Int'l Lead Facilitator:

Encountering the World of Islam could not have been introduced into Nigeria at a better time. The striking overview of what Islam is and what Muslims stands for; an in-depth and inductive engagement with Muslim evangelism; especially the practical near neighbor strategy makes EWI timely and needed for the Church.
Ministry to Muslims

Don McCurry, President:

The breadth of material in this 600 page text towers far above all others. The pedagogic principles inculcated in each lesson assure assimilation of material. The glossary alone is a rich mine of needful vocabulary. The array of approaches and practices is comprehensive. The tips on evangelism priceless. But above all else, Keith takes us beyond stereotypes right into the heart of our Muslim neighbors with love and respect.
Nigeria Evangelical Missions Association

Mike Adegbile, Executive Secretary, Nigeria Evangelical Missions Association:

In a country with one of the largest Muslim populations in the world, I'm delighted to present Encountering Muslims to the Evangelical Christian community in Nigeria. The training not only equips, it builds a confidence that urges us on to reach the world of Muslims with the love of Christ.
Odessa Theological Seminary

Dr. Sergiy V. Sannikov, Director, Odessa Theological Seminary, Ukraine:

Encountering Muslims stands out from the many books that are written and published on Islam. It is written with great respect and a desire to understand Muslims. The authors do not try to impose Christianity but desire to connect with Muslims in the language of their culture, so that believers in Islam can understand the beauty of the Savior and choose him with all their heart.
OMF International, U.S.

Michael Littlefield, President and National Director, U.S.:

As we see God on the move in the Muslim world, more and more equipped workers are needed. Those going full-time into ministry to Muslims as well as those at home reaching out to their Muslim neighbors will greatly benefit from this comprehensive course. Encountering Muslims is an important part of what we recommend for ministry preparation.
Operation Mobilization

George Verwer, Founder:

This is the most significant training tool of its kind that I have ever seen. All of us who love Muslims will want to study it and try to give the course and the book wider circulation. All of God's people need exposure to this great research and challenge.
Pioneers

Steve Richardson, U.S. Director:

Islam is at the crossroads. The next few years could herald sweeping changes and unprecedented opportunities for Christian witness in the Muslim community. It is imperative that we prepare ourselves with a biblical and historic understanding of Islam that enables us to communicate the gospel to the Muslim heart. Encountering Muslims is designed to provide this foundation.
Serving In Mission

Steve Strauss, former U.S. Director:

Perspectives on the World Christian Movement is one of the best introductions to God's heart for the world and what he is doing around the world. I am thrilled that there is now a similar course focusing on the world of Islam, and I am excited about how God is going to use it among his people to build a passion to see Muslims come to Christ.
Sixteen:Fifteen Church Missions Coaching

Matthew Ellison, President:

Given that Christ has commissioned his church to disciple all the nations and given the massive number of Muslim peoples without the gospel today, Christ followers must take deliberate steps to reach them…but most churches don't know where to start. One of the best next steps that I know of is the Encountering Muslims course.  Whether God has already blessed your church with a burden to reach Muslims or He is awakening desire, this course is an absolute must.
The Evangelical Alliance Mission

Charlie Davis, Executive Director:

We are very encouraged with the amazing breakthroughs that are occurring as the Lord Jesus builds his church among Muslim peoples. We trust that Encountering Muslims will be an effective tool to encourage many more believers to get involved with what the Lord is doing.
WEC International

Trevor Kallmier, International Director:

A very practical and interactive course that will deepen the student's understanding of Islam and help in developing more effective ways of relating to Muslims. This is a valuable resource for anyone interested in Muslim work.
The Zwemer Center for Muslim Studies at Columbia International University

Jerry Rankin, Director:

As we move further into the 21st century, God is moving in unprecedented ways to fulfill His mission of discipling the nations. Unreached people groups are being engaged with the gospel and church growth movements are accelerating the harvest. Although the Muslim world continues to be a formidable barrier to global evangelization, this stronghold is showing signs of crumbling. Encountering Muslims is an organization training Christians and churches around the world to understand and relate to diverse Muslim communities from the Middle East to Southeast Asia and European cities. This updated volume is a valuable tool for anyone who is conscientious about being God's instrument to bring the Sons of Ishmael into His kingdom.
Leaders
Colin Chapman

Former Lecturer in Islamic Studies at Near East School of Theology, Author of Cross and Crescent

At a time when issues concerning Muslims and Islam are in the national and international news almost every day, it's vital that every Christian in the UK should know how to relate to Muslims and have a better understanding of their faith and life. Encountering Muslims is a well thought out and well tested programme which emphasises the importance of building relationships, understanding Islam, and bearing witness to our Christian faith. If members of every congregation could engage with this course, they would help to equip and motivate the whole church to relate to Muslims with greater awareness and courage.
Gary Corwin

Missiologist, SIM and Associate Editor, Evangelical Missions Quarterly

Keith Swartley and his colleagues deserve great credit for producing Encountering Muslims. It is the single most comprehensive tool available for Christians seeking to understand Islam and reach Muslims with the glorious Gospel of Jesus Christ.
David Garrison

Author, A Wind in the House of Islam

Encountering Muslims and the training course it has generated are the best resources I know of to prepare today's Christians to participate in God's growing ingathering of Muslims into the Kingdom of God. I've personally used this book and participated in this training, and rejoiced to see how it has transformed uninformed and tentative Christians into confident, enthusiastic, and effective instruments of God for bringing Muslims into the light of the Gospel of Jesus Christ.
Steve Hawthorne

Co-editor, Perspectives on the World Christian Movement

Please don't consider the title of this book to be optional. In one way or another in our world, we are already encountering the world of Islam. This carefully crafted collection of readings is designed to introduce you to Muslim peoples and history in a way that points toward a fulfillment of God's purpose for all peoples. It's really a designed re-encounter with Jesus. Somehow the light of hope seeps through every page and piece: Christ will indeed be loved and followed by many throughout the Muslim world. The surprise is that it's really not about you encountering Muslims. In light of this hope, you'll be able to envision the Muslim world encountering Jesus.
Nabeel Jabbour

Professor and Author of The Crescent Through The Eyes of The Cross

We are living in unprecedented time in history when it comes to the movements of the gospel among Muslims. Truly the harvest is plentiful but the laborers are few.  Encountering Muslims contributes to equipping laborers for the harvest. It will be the beginning of a journey of transformation biblically and missiologically.
Greg Livingstone

Founder, Frontiers

These days a multitude of stories need verification and many writers lack prolonged, personal contact with Muslims... it is both very gratifying and immeasurably vital to have the realism of practitioners brought to us by the text and course Encountering Muslims. No one seriously considering or already involved in ministry to Muslims should be without it.
Phil Parshall

Missiologist and Author, SIM

Encountering Muslims is, in my opinion, currently the single most helpful book for any person involved in seeking to win Muslims to Christ. Keith Swartley and his team have done a masterful job in identifying strategic options for witness. As a textbook for seminars, this book is without equal.  Unreservedly, I commend Encountering Muslims to all who are engaged in witness to the Sons of Ishmael.
Rev. Canon Phil Rawlings

Church of England Interfaith Officer in Oldham, Lancashire

Co-director of the Manchester Centre for the Study of Christianity and Islam

We cannot recommend the Encountering Muslims course highly enough. Full degree-level studies aside, it is probably the best course available to get clued-up on Islam in Britain and beyond, different aspects of various Muslim cultures, start looking at how to build relationships with Muslims and possibly introduce them to Jesus. This study course explains about Islam, Muslim cultures and traditions: as much as most Christians who live or work around Muslims should need to know. Teaching, by our own staff and specialist visiting speakers, cover topics from the development of Islam through to the cultural barriers between Muslims and Christians.
T. V. Thomas

Chairman, Ethnic America Network

Keith Swartley has produced an academically respectful volume that is written in a lucid style with balance and sensitivity. It informs the readers of key concepts in Islam and inspires them to build loving relational bridges with Muslims and engage in spiritual conversations.
Churches
Asbury United Methodist Church, Tulsa, Oklahoma

Mary Ann Smith, Global Outreach Director

The people who attended the course we hosted were challenged and inspired by how much they learned – they didn't know how ignorant they really were about the world of Islam.  It was most helpful to those who encounter Muslims in their work day world and at school.  It removed the fear of saying the wrong thing and gave them encouragement to make friends within the Muslim community.  One of the activities that we arranged was to have a meeting with Islamic students at our local university.  There was a great exchange of information about their faith and when it was over the Islamic students and leaders said they would like to have such a meeting again.  The course really helped to break down walls of ignorance, misinformation, and prejudice.
Grace Community Church, Fulton, Maryland

Mark Norman, Lead Pastor

My first conversation with Keith Swartley was about taking scared and intimidated American Christians to predominantly Muslim countries to talk about Christ. He was regularly doing this both overseas and in downtown Philadelphia – and he was good at it! For those of us who thought all Muslims wore burkas or vests of explosives, his wise and clear coaching were valuable beyond words. Every time someone asks me about reaching Muslims for Christ, my first thought is, "You've got to talk to Keith Swartley." This book, and its course, are second best for those who will never get the chance to sit across a table and pick his brain. Fasten your seatbelt, he's about to take everything you know about winning Muslims to Christ to a whole new level.
Knox Presbyterian, Ann Arbor, Michigan

Bob Lynn, Associate Pastor of Adult Education, Missions, and University

I don't know of a single resource like Encountering the World of Islam. This volume provides a wealth of historical, biblical, theological, and missional material on Islam between two covers. The articles and excerpts do an outstanding job of equipping the local church to reach out lovingly and thoughtfully to Muslim men and women.  Its irenic tone is perfect for a time when so many Christians misunderstand and even fear their Muslim neighbors. And once you've seen the book, make sure you take the class!
Lake Avenue Church, Pasadena, CA

Scott White, Pastor of Global Outreach, Associate Pastor of Missions and Evangelism

I am grateful for the groundbreaking contribution of Encountering Muslims. As a local church leader, this tool has equipped many of our members to understand Islam better and build God-honoring relationships with Muslims in our immediate community and around the world. Everyone involved in the intersection of faith between Muslims and Christian should have this volume on their shelf.
Mount Paran Church, Atlanta, GA

Greg Clark, Minister of Missions and Evangelism

Encountering Muslims is one of the most useful instruments to help the Body of Christ understand the Muslim heart and how we may engage those of the Islamic faith in conversation and experience to introduce them to Christ as Savior and Lord. Every Christian who has a heart to share the Gospel with Muslims needs to digest this material and gain insight into the historical, cultural, and spiritual perspective of those in the world of Islam.
Southeast Christian Church, Louisville, KY

Charlie Vittitow Jr., Missions Director

The level of outreach by the members of our church who participate in the Encountering the World of Islam class is very encouraging.  Through Encountering Muslims, the uncertainty, fear and even hardness of heart that many experience when reaching out to a follower of Islam has been dramatically reduced.  Most importantly, Encountering Muslims has equipped our church to better love our Muslim friends.
Waterstone Community Church, Littleton, CO

Nick Lillo, Lead Pastor

Keith really does understand the world of Islam and has a passion to see them know Jesus. He is insightful, compassionate and strategic in helping us understand God's desires for the Muslim world. I highly recommend the book and the course!